Profile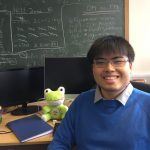 Nawapat Kaweeyanun
Curriculum Vitae
Education

I spent my early years in Bangkok, Thailand, under the local school system. I moved with my family to California during Year 7-9, where I took classes in English for the first time. Afterwards, I returned to Bangkok and attended an international school and finished secondary school in the International Baccalaureate (IB) programme. I moved to the UK to complete a 4-year Physics masters degree at Imperial College London. I am now in my 2nd year of the 4-year PhD degree also at Imperial College.

Qualifications

I have an MSci Physics with Theoretical Physics degree with 1st-class honours from Imperial College London.

Work History

As I am still a student, my past jobs are mainly summer internships and placements. I have interned at the National Science and Technology Policy Office in Thailand, a government organisation dedicated to developing science education in the country. I have also worked as an undergraduate researcher at Imperial College London, during which I helped do research for a university faculty member.

Current Job

Ph.D. Research Student in Physics at Imperial College London.

Employer

My work is sponsored by Imperial College London and the Royal Society.
Favourite thing to do in my job: Coding a program that actually works!

About Me: I am physicist-in-training (read: PhD student) at Imperial College London. I am passionate about how physics explain our universe and if all goes well, I will get a (not very useful) Doctor title in a few years! I love playing/watching football, and used to be a housemate with 15 dogs.

Read more

I originally came from Bangkok, Thailand. I was inspired to study physics by my secondary school science teacher, who helps me see physics as a vast web of knowledge going back to the beginning of our universe! I came to London for university over 5 years ago and fell more in love with scientific research. As a PhD student, I am very excited to tackle problems no one ever answered before and share my findings with the world. I hope to work as a professional researcher in the UK or Europe after my degree, with a longer-term goal toward helping scientific advancements (research or outreach) in Thailand.

In my spare time, I cook a lot of Thai food to fight homesickness and spend my weekends catching a football (I'm a goalkeeper!). I can play the piano at an average level. I grew up in a house with 15 dogs!

My Work: I am a space physicist looking at Jupiter's largest moon Ganymede. I use a computer to picture the moon in detail, so I can see how it interacts with their surroundings without having to actually go there. We believe that Ganymede has a very large underground ocean that may host life, so we are sending a satellite (called JUICE!) to the moon and my job will help us prepare for this mission.

Read more

 (Ganymede)

Ganymede behaves like a giant bar magnet and generates its own magnetic field much like Earth. The moon's magnetic field is shaped by 1) the surrounding Jupiter's magnetic field, and 2) magnetic contents inside the moon which include the underground ocean. My work looks at Ganymede's magnetic field in detail, especially how plasma flows (very hot gas) create weather-like events near the moon. This knowledge will help us not only keep our satellite safe, but also help us look into the ocean and see how big and salty they are.

 (Ganymede's underground ocean)

To do this, I use computer programming to create a model of Ganymede's magnetic field. These programs use a lot of maths to mimic the real moon as closely as possible, so we can be sure that our results are accurate. This also means that I can do all my work with nothing but a computer. Not all science involves a big lab with expensive tools!

My Typical Day: I wake up around 8 AM in the morning, then travel to my office at university that I share with other PhD students. I turn on my computer and plan computer program(s) I want to make, and then spend my day coding away! I often take a lunch break with my friends and sometimes an afternoon tea too. I leave my office around 6 PM in the evening, but sometimes later if my program is not finished.

Read more

After I arrive at my office in the morning, I plan my goals for the day and write them on a sticky note as a reminder. My typical goal is to write a computer program to perform a specific task. To do this, I first write out the maths needed to make a program in my notebook. Then I start coding on Matlab, an app used for advanced programming. The coding can take a few hours or a whole day. If I finish my program, I perform checks to see if there are any errors with the program and then produce some graphs if needed. Once this is done, I look at my next goal and start programming again.

 (My work computer with Matlab on screen)

I meet my PhD supervisor once every week for an hour. During this time we discuss the progress I make in the last week. Our talk is mostly about the science rather than the coding, as I know more about my code than he does! I also have a research group meeting where I meet other PhD students and scientists working on similar research topics and share our findings. Otherwise, I am an assistant teacher to a class of ~20 university students at my university, where I help them learn various concepts in their curriculum!

What I'd do with the prize money: If I win, I want to use £500 to kickstart an online website promoting science from outside of Europe/North America, where scientific advances do not appear as much in our media. The money will help me buy and maintain a website for several months or even a year!

Read more

From algebra (Persia) to gunpowder (China), many scientific advances have come from people outside the Western world. Unfortunately, these achievements are often neglected in science history education here in the U.K. This ignorance can blind us to viewpoints which may be much needed for us to tackle global challenges today, especially climate change. As a scientist from a developing country, I want to promote a more empathetic, equal, and global science through my works. I plan to set up an online website promoting historical and current scientific works being done outside of Europe and North America. The contents will be written simply and understandably to everyone. The prize money should help me buy and maintain the website up to several months or even a year, which is enough time for me to find more money for this project. 

My Interview

How would you describe yourself in 3 words?

Learner, Passionate, Perfectionist

What or who inspired you to follow your career?

My science teacher in secondary school.

What was your favourite subject at school?

Physics and Chemistry

What did you want to be after you left school?

A research physicist

Were you ever in trouble at school?

Sometimes when I was younger!

If you weren't doing this job, what would you choose instead?

I would have been a teacher.

Who is your favourite singer or band?

Dodie Clark

What's your favourite food?

Big bowl of cereal in the morning!

What is the most fun thing you've done?

Make my students go "Eureka!"

If you had 3 wishes for yourself what would they be? - be honest!

1. A teleporter to visit my family at any time. 2. A chair that can fit any work desk. 3. A pen with infinite ink that I can call to me any time no matter where it is.

Tell us a joke.

Why is electricity an ideal citizen? Because it conducts itself so well!
---
---